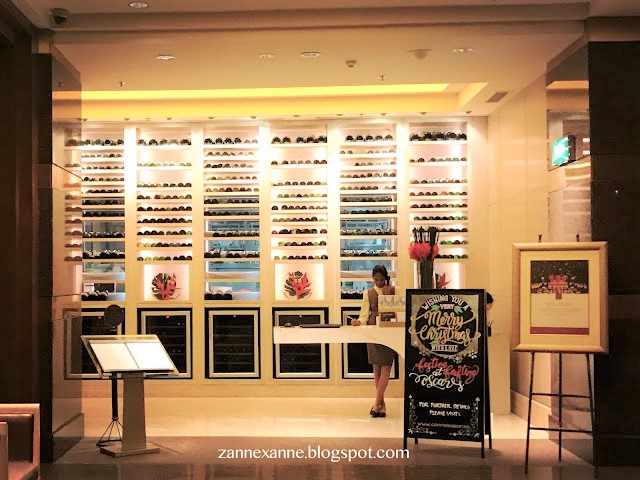 Oscar's Conrad Centennial Singapore Review By Zanne Xanne| Best Buffet Award in Wine & Dine
Christmas  is just around the corner and there's a lot of hotel restaurants start to have the Christmas lunch buffet promotion going on during this wonderful festive season. Wilfred actually had this complimentary cash voucher from Oscar's Conrad Centennial Singapore and he manages to reserve a table under this 5 star hotel restaurant before it expired!
Oscar's is very easy to be spotted and it is located at the street level which near to Suntec City and Millenia Walk. Upon arrival, we saw a huge collection of wines hanging on the shelves and each of the dining tables was decorated with Singapore's national flower – orchid.
The interior was bright and spacious with both indoor and alfresco seating with some Christmas decor over the high ceiling.
Oscar's is awarded one star and has won the Best Buffet award in Wine & Dine Singapore's Top Restaurants Guide for 2017/2018. They are providing a culinary journey that will feed your senses and an array of sumptuous local and international culinary creations to indulge all day from breakfast to dinner. Besides serving the variety of mix local and international cuisine, Oscar's is serving the Christmas Turkey at the carving station for this festive season too!
A few buckets of fresh and nice displayed seafood such as crabs, oysters, mussels and prawns were imported from New Zealand which as freshly to be shucked and standing by for devoured. In addition, they were serving fresh salmon, tuna and sushi rolls next to the seafood zone as well.
Don't forget to create your own and unique salad at the Caesar Salad Station with a large cheese drum designed for tossing a variety of mix and cheesy stuff. For those who prefer something green, you can create your own fresh and green salad at the Buddha Bowl Station.
They were serving steaming bowls of local favorite noodle at the alfresco dining area Noodle Bar which is located outside of the restaurant.
Be creative and create your style of waffles and Tau Fu Fa at the dessert area.
They served a variety of yummy cakes too along the dessert zone.
Overall, we enjoy ourselves very much and they replenished the food very fast. The food was freshly cooked and the service was good as well!  If you are looking for a nice and convenient place to host a business meeting, Oscar's is definitely value for the best quality and fresh seafood among the others hotel restaurant.