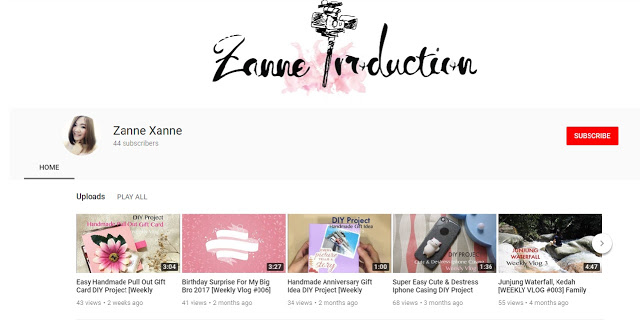 DAIRY #3 | YouTube Channel ~ Zanne Production
Hello everyone, time flies so fast and is May now! If you've followed my blog weekly and probably you have noticed some changes or something new on my page. Hehe … that's right! I'm new to the YouTube channel!!! I have shared the link HERE and feel free to click in and please don't hesitate to give me a like or share and subscribe to my channel. Fingers crossed, I'll try my best to upload quality and nice travel, daily beauty lifestyle video contents WEEKLY in my channel.
Moreover, you are more than welcome to drop by and leave a feedback whether you like or dislike the videos. I always count my blessings that I have such a supportive and caring family members, friends and readers who never fail to support and care about me. It's really touched when I read your messages and I feel motivated to keep on moving. Without you guys, I don't think that I able to go so far as I don't really love to talk so much in front of people not even in the video.
And good news that I just figured it out lately how to upload a customize thumbnail for my YouTube channel and I still have a lot of things to learn in order to improve my video quality. I just bought a compact camera with flip screen function lately from Carousell for my Vlogging purpose and I'm thinking to get a GoPro camera for some exciting and adventurous videos too.
Last but not least, this is just a start for my YouTube channel and I hope you guys will continue to support and love me as always.
 Don't forget to LIKE, SUBSCRIBE and SHARE my video! 🙂