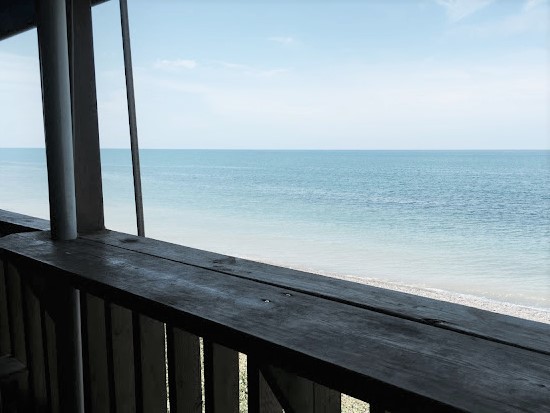 Coastal Riding in Kenting, Taiwan ~ 我在墾丁 天氣阴 | Zanne Xanne's Itinerary
Finally began my summer trip with a bunch of crazy besties in Taiwan! We had planned the trip a year ago as we manage to get the cheap tickets with Air Asia for $178 (about RM 500). Get ready for the fun filled summer vacation with my first trip in Kenting ❤ Unfortunately, we did not plan for any beach activities during the trip as we just spend 2D1N in Kenting only. So, here are some sweet memories with my besties during the trip!
Kenting is located in the Southern part of Taiwan, hence the temperature varies by several degrees compared to the North part. The sun was shining brightly and warm until I can feel the pain on my skin! Don't forget to drink more water and apply sunblock to stay hydrated if you are planning to visit here.  And here I recommend the new 2015 Biore UV Aqua Rich Watery Essence sunscreen with SPF 50+ to provide enough moisture and UV protection for your skin.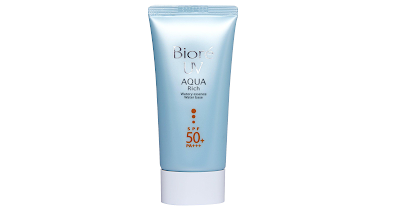 THE ROUTE
We took a charter van for NT 2500 from Kaohsiung to Kenting and it took approximately 2.5 hours to reach our accommodation. According to my friend Charmaine, it was the cheapest rate compared to others driver in town! J Upon arrival, we were quite satisfied with the accommodation in E-Ping Hostel (一品栈,南湾).  The room was clean and the location was quite convenient. It's just a few shops away from 7-11! We were so lucky to get a sea view room with balcony and we had to pass by the bathroom before we reached there. It was an "open" bathroom where you can enjoy the spectacular sea view while showering in the bathtub. However, it just covered by a curtain without any door there. You can really feel the stress when showering inside because your  friend may just enter the bathroom anytime if they going to prank you!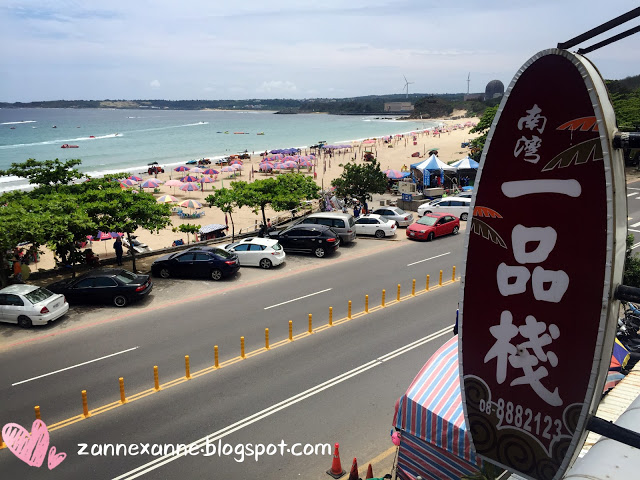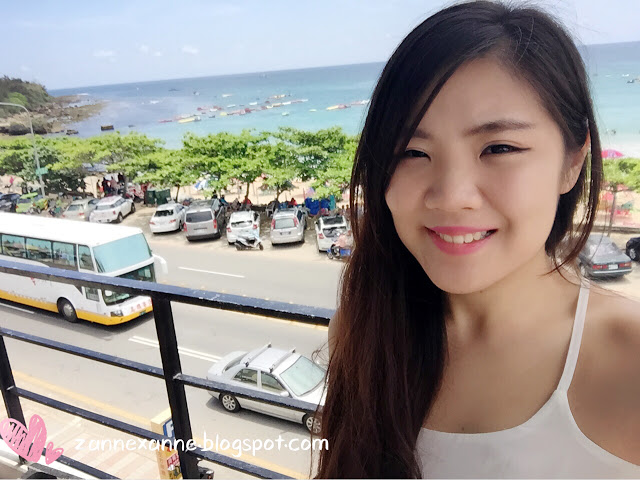 I can't even open my eyes!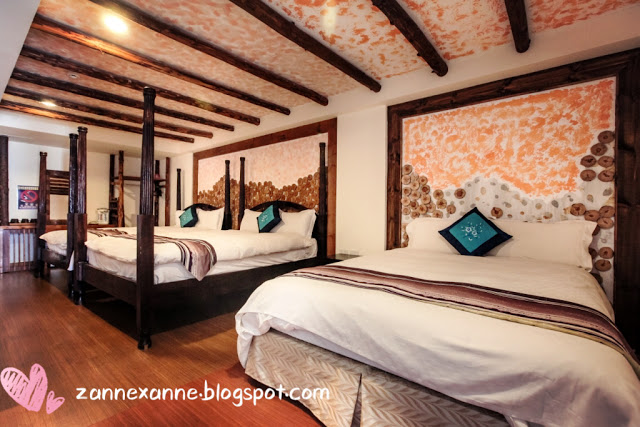 A big room for 7 of us !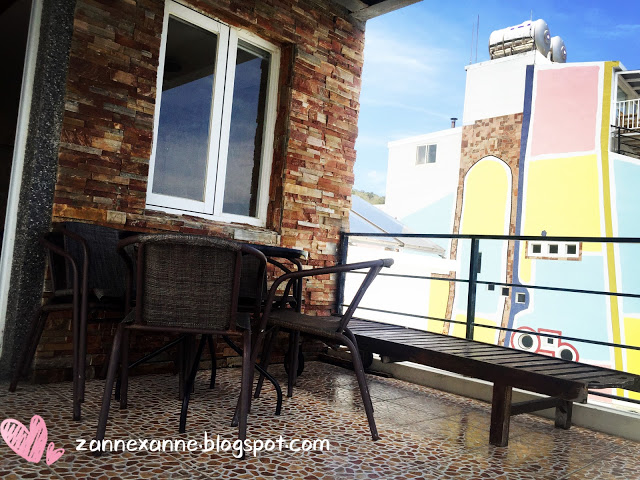 Don't forget to try the refreshing Ice Lemon Black Tea with jelly 柠檬爱玉红茶 and Signature Ice Milk Tea 特浓鲜奶茶 from Wujia Tea (吴家红茶冰) for a summer refresher which just located in front of the hostel.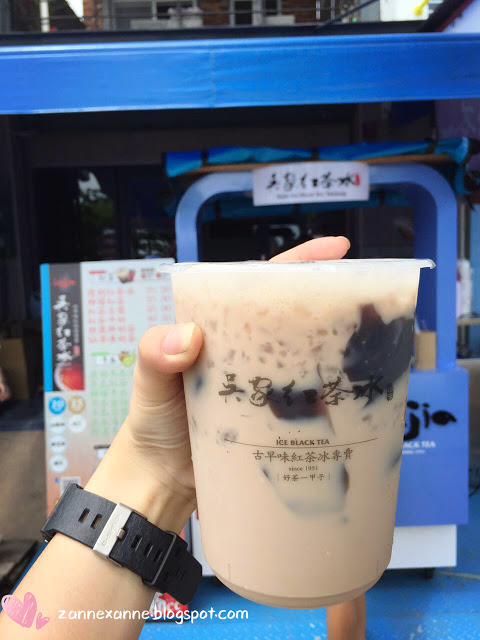 Signature Ice Milk Tea
The weather was not too good on that day. It was raining drizzling around 3pm and we had to get our raincoats from the nearest 7-11 during our ride. Electric bikes and scooter rental is quite convenient and affordable in Kenting. The rental rates can be between the range of NT 400~600 and you need an International Driving Permit in order to rent the motorbike.
1. HENGCHUN OLD STREET (恒春老街)
The first place that we explored was Hengchun old street which located near to the south gate 南门 in Kenting. It is an interesting place with historical traces and flavorful street food.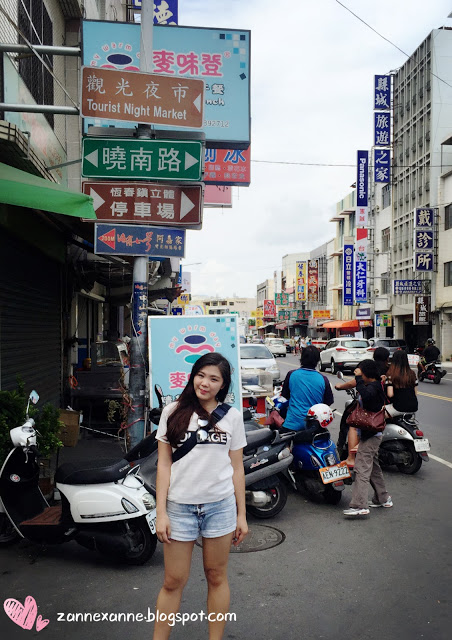 2. AH GA'S HOUSE (阿嘉的家) 
Take a peek inside Ah Ga's House when you are at Heng Chun Old Street. Ah Ga actually a name of character from Cape No. 7 (海角七號) which filmed here on 2007. We don't really visit "his house" due to the rain. But you can visit this place during the day at a small entry of NT50.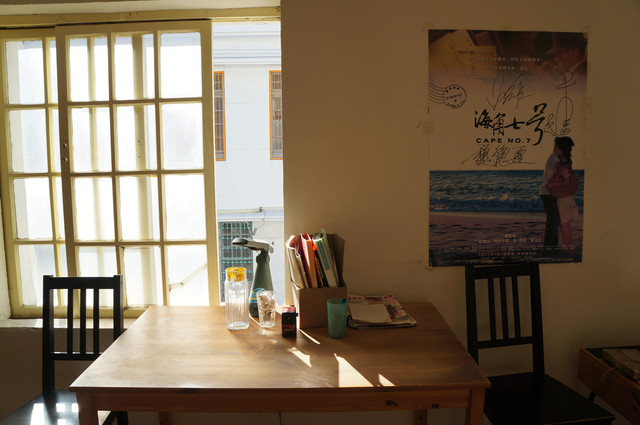 All Image from HERE
3. MAOBITOU (猫鼻头) 
Maobitou (Cat's Nose) is one of the amazing sightseeing which defines the sea border of the Taiwan Strait and Bashi Channel. It is a great place for photo shooting around the rock with awesome sea views. You can take the chance to see the southern cross from the observatory desk here during April-June. Furthermore, don't forget to try their cheap and delicious seafood from the food stall too. 🙂
ps: Do take note that it will be closed during the typhoon season.
The Observatory Desk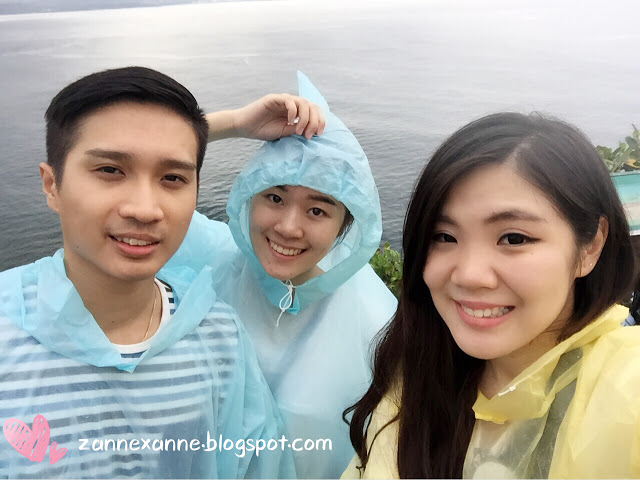 The South China Sea Behind Us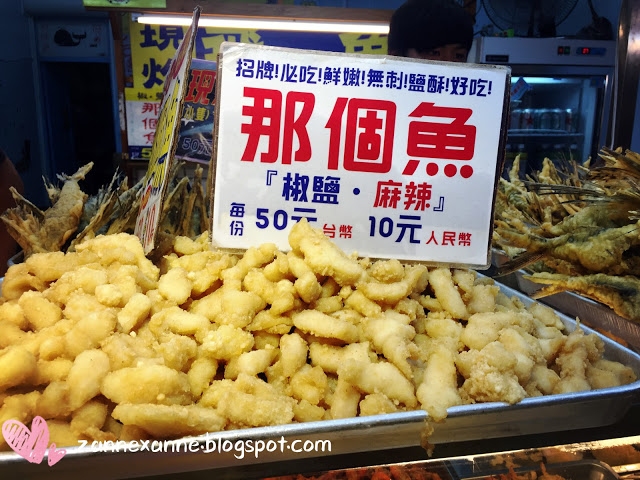 Must try the local seafood  Na Ge Yu (那个鱼)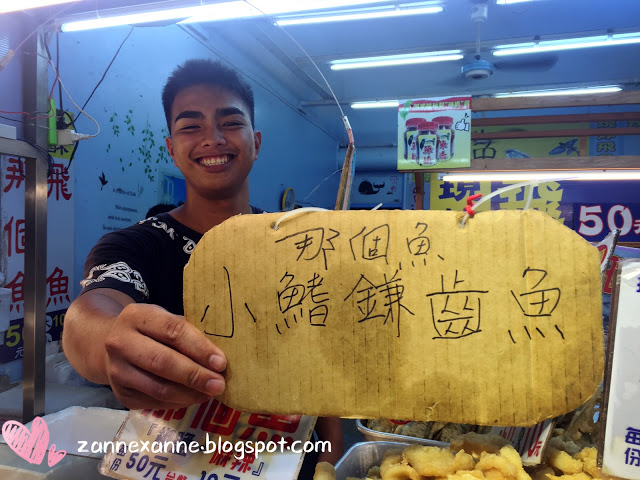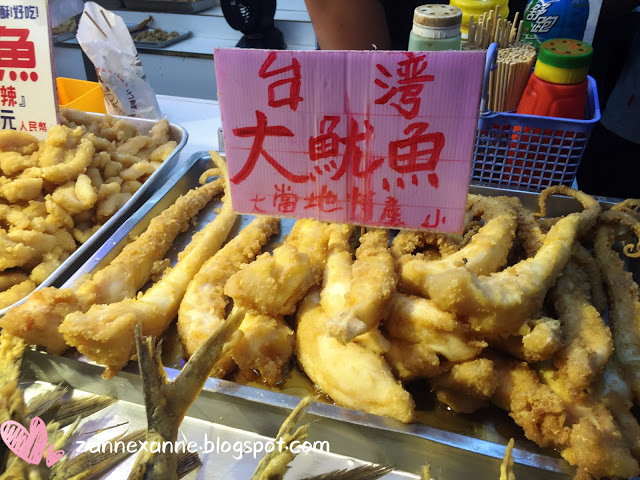 Fried Cuttlefish
4. KENTING WINDMILL 
Trying so hard with my friends to recall the place where we snap the picture of windmill here. However, you can spot the windmill scene on the way to Eluanbi Lighthouse 鹅銮鼻灯塔.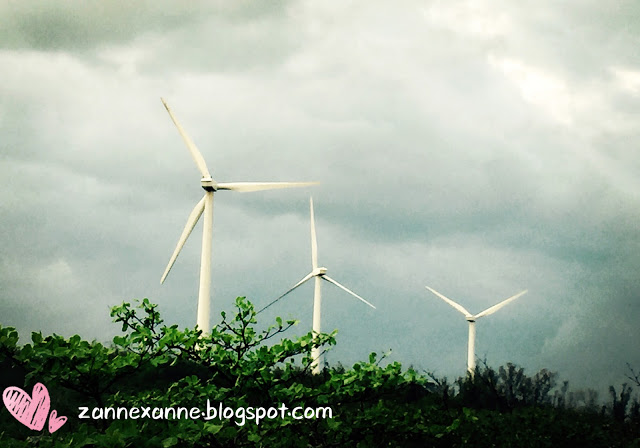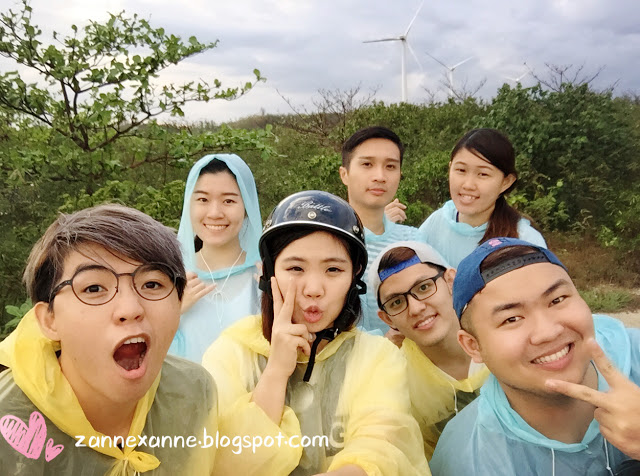 5. SAIL ROCK / CHUANFANSHI (船帆石) 
Chuanfanshi is one of the must see scene in Kenting which renowned with the rock formation that look like a sail-shaped rock. It was named due to its shape and to me it looks like the head of a boy only.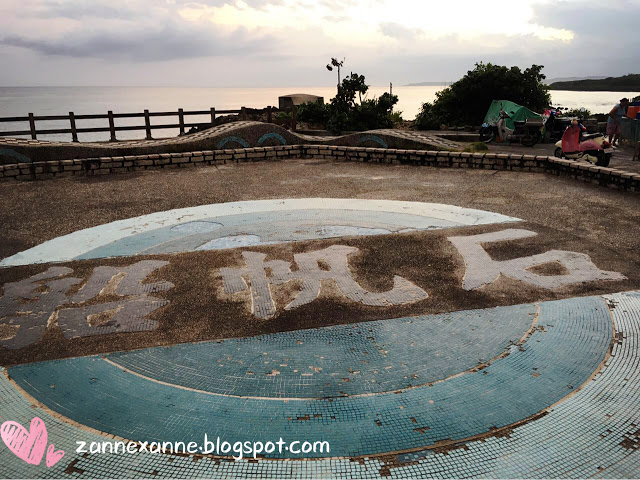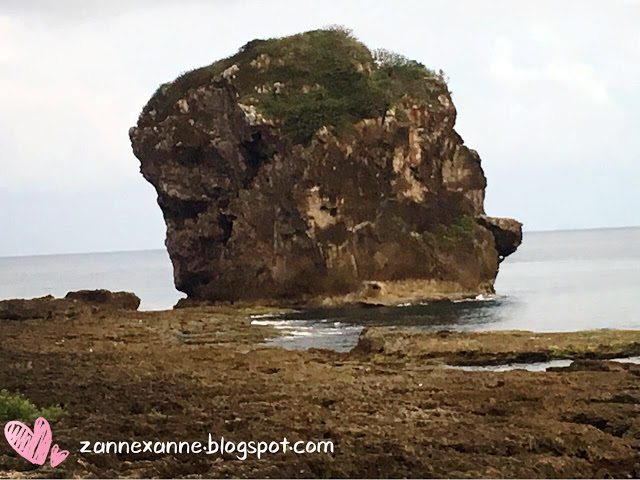 What do you think about the shape?
6. ELUANBI LIGHTHOUSE (鹅銮鼻灯塔) 
Eluanbi Lighthouse is located at the Southern tip of Taiwan. The best time to visit the lighthouse is during daytime. We took about 30mins to ride from Kenting town to the lighthouse. It was quite late when we reached there, the sky had turned dark after the rain and the main entrance was closed after 7pm.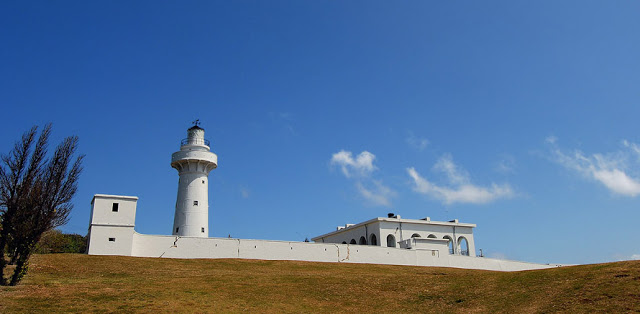 Image from HERE
7. KENTING NIGHT MARKET
Kenting Night Market is located along the main road between our guesthouse to Eluanbi Lighthouse. There are a lot of stores and vendors along the street selling souvenirs, accessories and delicious local street food such as grilled seafood, braised food, local fruits, Chou Toufu, fried cuttle chicken and etc.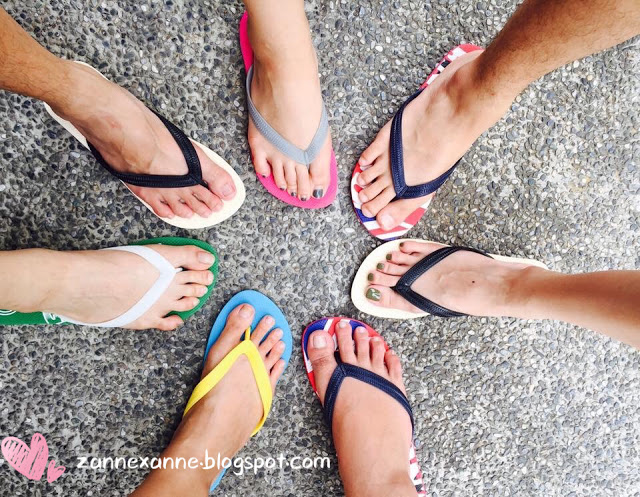 Thanks to the crazy peeps for making my day in Kenting. Really have a great time with you guys especially in the raining day! Thanks for reading once again and Happy Mother's Day to all of the moms there.
❤ 我在墾丁 天氣阴 ❤