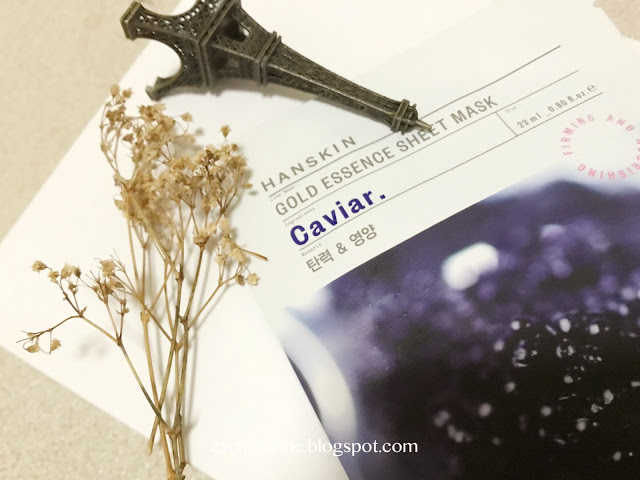 HANSKIN | Gold Essence Sheet Mask Caviar Review By Zanne Xanne
Frankly speaking, I've not heard about HANSKIN cosmetic brand before until I have the opportunity to try one of their beauty products Hanskin Gold Essence Sheet Mask Caviar which given by the sales representative. And I did some background research about this Korean brand and I only realize you can only  purchase their products from the official shop Lazada Singapore.
ABOUT HANSKIN 
Hanskin is a clean and natural Korean cosmetic brand that focus on the high quality natural ingredients and handmade concept cosmetics based on the natural science and facts. They are famous with their BB cream and they are offering 13 brands which tailored customer's needs: skin care line, men's cosmetic line, makeup line, hanbang line (Oriental medicine) and etc.
PRODUCT DESCRIPTION
Hanskin Gold Essence Sheet Mask Caviar formulated with the Gold Caviar of sturgeon that is reputed as Imperial Fish and ingredients of gold and collagen that have excellent anti-aging properties.It keeps the skin nourish and firm, helps deliver robust, tightened and supple the skin.


HOW TO USE
Attach the mask on your face tightly after cleansing. Remove the mask after 10 to 20 minutes and dab your face gently and lightly.
THOUGHTS
We all know that caviar is a LUXURIOUS & EXPENSIVE food that provide nutrition and anti-aging benefits to the skin. In addition, caviar mask helps to moisturize, smoothen and deeply hydrate the skin from inside to outside that makes your skin bright and youthful. Click on the link to find out more about What Caviar Can Do For Your Skin.
Being rich in proteins and antioxidants, Hanskin Gold Essence Sheet Mask Caviar did a good job for face brightness as it helps to eliminate the fine lines and combating ageing agents. As the skin cells individually has a 30 days life cycle, you have to use the mask consecutively 2-3 times per week for effective result. It makes my skin brighter and glower after the "luxurious facial therapy" from Hanskin and it only costs $2 per sheet!