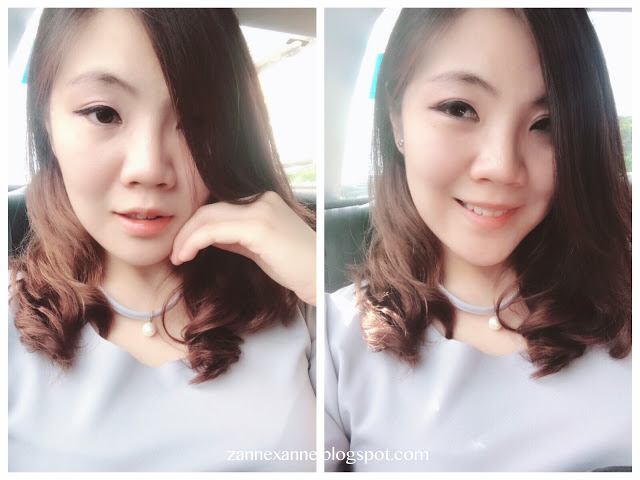 Neolive Korean Hair Salon Review By Zanne Xanne
I did a cold perm recently at Neolive Korean Hair Salon in Novena Square 2 and I love my new Korean look so much compared to the straight one. This is my second times to curl my hair and the first time was a digital perm before I chop off my long hair previously.One of the reasons that I don't want to keep my hair straight is because I have a little OCD and I really unable to tolerate with the mark after I tied or bun up my hair. In addition, my workplace has a high expectation on our grooming standard and I need to bun up my hair most of the time. So I guess by perming my hair, this is one of the effective ways to overcome my little OCD towards the mark.
After reading some reviews online, most of the customers found that there's a language barrier between themselves and the hairstylists. However, I still manage to communicate with my hairstylist Grace who can speak English and she was an award winner from Korea. I approached her by showing some of the digital perm pictures and she advised me to go for a cold perm instead of digital perm as I had bleached my hair before and this may damage my hair again. She was very friendly and professional and I definitely took her advice as she was one of the award winners as well!
Cold perm uses a small and medium plastic curler to curl your hair,which is more defined when your hair is wet. Digital perm also known as hot perm is a procedure permanently curling hair using the combination of chemical restructuring and heat. It produces bigger and softer curl compare to cold perm when the hair is dry.
Neolive is actually a Japanese hair salon chain staffed by Korean hairstylist in Singapore. It combines both hairstyle trends from Japan and Korea. The hairstylists are a gold award in National Talent Olympic for hair dressing and they even provide makeup services for KBS and MBC TV announcers and Miss Korea.

THOUGHTS
I was cautious when I read the reviews online, however Grace never disappointed me and she was really professional and skilful. She did a lot of treatments on my hair before she began to perm just to make sure they are not totally damage. She has a few junior hairstylists that assist her to wash and blow my hair. Grace is the main hairstylist to trim and set my hair. Furthermore, they are not an aggressive type to "force" you to purchase their products. However, I did purchase a collagen hair cream from her for $30 and it did help to nourish my hair after the perm. Overall, I spend about $250 for my cold perm and I love my perm so much! She has guided me how to take care and style my hair too! For the best result, you should use some hair products such as setting lotion, mousse and curly hair products in order to make the curls more stand out.
10, Sinaran Dr, #03-02/03, Novena Square 2, 307506 Singapore.
Operation Hour | 11am- 8pm (weekday) | 11am – 10pm (weekend)
+65 63976031