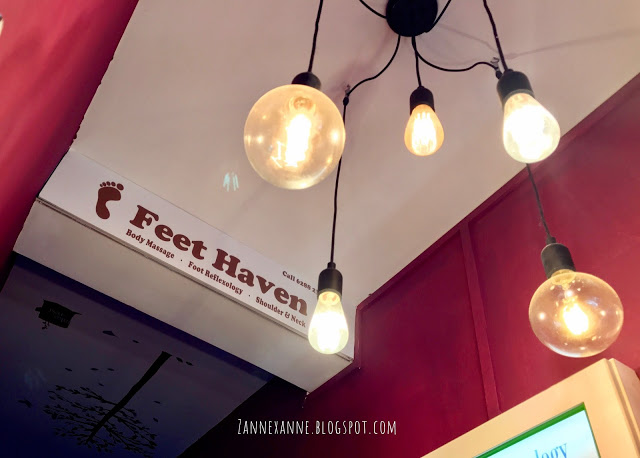 Feet Haven Serangoon Gardens Review By Zanne Xanne| Nice Reflexology Massage
Discovered this lovely hidden heaven lately from Instagram where you can relax and find tranquility in the bustling city of Singapore. A boutique feet reflex brand ♥ Feet Haven Reflexology which is popular among local, tourist and expatriates who are looking for relaxation and rejuvenation.  
I visited one of the branches ♥ Feet Haven Reflexology at Maju Avenue lately and it was one of the best massage I ever had in Singapore! It was extremely rejuvenated from head to toe where the therapist – Mr Alan was so skillful and friendly!
Feet Haven Serangoon Gardens is located near to the iconic Chomp Chomp Food Center and My Village. The location is pretty easy to be spotted with the gigantic signboard along the road.
ENVIRONMENT
It's quite comfortable with the warm ambient lighting in order to create a cozy secluded corner for moments of total relaxation and rejuvenation. There's a pleasing aroma scent greet you when you are entering the place with the soothing Christmas's song background that plays over the air conditioning room with the right temperature.
MASSAGE
Feet Haven Reflexology is offering foot reflexology and body massages to its customers. I can feel that Mr Alan is really working hard to loosen my foot and the back of my muscles by using his elbow and fingers. Yeah… I do love the "powerful massage" and the skill level is good and quite consistent too! Mr Alan also gave me some advise about my internal body problem that caused my foot and body aching, I'm really impressed with his "stethoscope hand"! You may request them to increase or decrease the power. As what I had mentioned earlier on, it really made me calm, relax and rejuvenate from head to toe after the 60 mins massage. It's really a magical healing potion for a busy woman like me!
SERVICE
The staff and therapist are warm and jovial! The spa is also not the "hard-sell" type spa with an expensive package and those friendly faces turn black when they notice you don't have the intention of signing the packages. They believe on the word from mouth to mouth.
AWARD
♥ The Best Foot Massage by Harpers Bazaar Spa Awards 2013
♥ The Best Value Simply Her Foot Spa by Simply Her 2013
♥ SMES Asia Award 2014 / 2015
♥ Elle Beauty Treat List 2015- Best Foot Reflexology Harper's Bazaar Spa Awards 2015
♥ 30 Minutes Shoulder and Neck Massage Award (Best Quick Fix Massage)
♥ 60 Minutes Foor Reflexology Award (Best Foot Massage)
♥ Harper's bazaar Spa Awards 2016 (Best Quick Fix Massage)
♥ Cleo Body Awards 2016 ( Best Foot Massage)
Featured in the popular Publications:
♥ 8 Days
♥ Cleo
♥ Mother & Baby
♥ Young Parents
♥ Eastie Brekkie
If you are thinking to look for an excellent massage to alleviate your sores and  stiffness, make an appointment in advance with them and it's definitely value for money!
♥ +65 6344 7311 (Katong Branch)
♥ +65 6288 2314 (Serangoon Garden Branch)
Operation Hours
♥Sun – Thurs (12pm – 10pm)
♥Fri- Sat ( 12pm – 11pm)