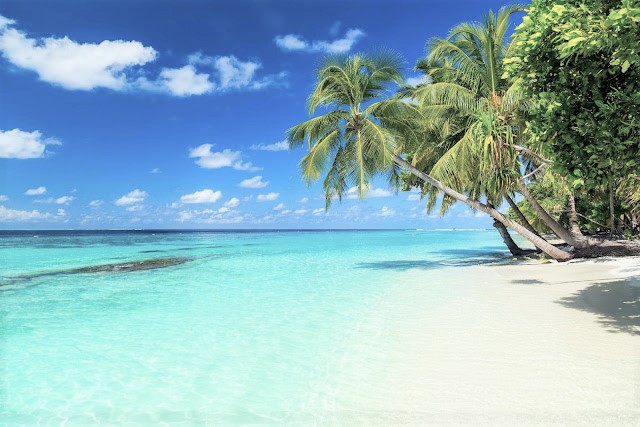 30 Things You Should Know Before Visit Maldives | Zanne Xanne's Travel Guide
The luxurious resort, crystal clear sea, white sand beach are the first impression that everyone could link about Maldives. Besides flying into the lovely island and immerse yourself with the natural Vitamin Sea, there are few things that you need to know about the local culture and the way of life before visiting a new country:
1. ASIAN COUNTRY
Maldives, officially known as the Republic of Maldives is a South Asian island country which located near to Sri Lanka and India. It takes about an hour to travel from Sri Lanka to Maldives.
2. MALE- CAPITAL OF MALDIVES
Male is the capital of Maldives and it's also known as "King's Island" for its central location. The roads are busy with a lot of motorbike speeding around the town.
3. MUSLIM COUNTRY
Maldives is a Muslim country, as a result there is no alcohol available because Muslims are prohibited to touch anything that contain alcohol.
4. LOCAL CURRENCY
The local currency is Maldivian Rufiyaa (MVR) and the most popular currency exchange is from EURO or USD to MVR. You don't need to bring much of their local currency, USD and EURO are equally acceptable here.
5. MALDIVES LANGUAGE
Dhivehi is the official language of Maldives, however English is also widely used in the education, commerce and hospitality industries.
6. BIKINI BEACH
Tourists are only allowed to wear bikini at Bikini Beach as there is the local culture and religion that we have to pay our respect to them.
7. MADE UP OF 1192 ISLANDS
It is so small that many of the world maps do not show Maldives, however it made up of 1192 islands.
8. SOME ISLANDS DISAPPEAR FROM THE WORLD MAP
Maldives has been listed as one of the MUST VISIT PLACE before you die as many of the islands begin to sink and disappear from world map due to the natural erosion from the sea and rising of water level.
9. THERE'S 4 DIFFERENT TYPE OF ISLANDS
There are 4 types of different island in Maldives: uninhabited, inhabited by local people, inhabited by local people with guesthouse for tourists and resort islands for tourist and staff.
10. TEMPERATURE
The daily temperature is from 24 Celsius – 33 Celsius, hence remember to bring along the sun block to protect yourself from the UV ray.
11. BEST TIME TO VISIT MALDIVES
There will be less rain during December – April and it's an ideal month for tourist to travel, especially for scuba divers and general travellers. May – October is mostly defined as monsoons season and you will experience some rain at these periods. However, you may get a cheaper price for the resorts and water activities.
12. MOST OF THE FOOD IMPORTED FROM OTHER COUNTRIES
Most of the Maldives's food is imported from others countries for instance India, Sri Lanka, Australia, Europe and etc. Hence, the price is much more expensive compare to their original countries.
13. FLATTEST COUNTRY IN THE WORLD
There are no hills, neither mountains, nor valleys in Maldives. You will hardly spot any of these from the nearer Maldives Island as well, hence it's very suitable for those who are flying to Maldives to enjoy the warm sun and Indian Ocean climate.
14. CROWS AROUND THE ISLAND
Please don't be surprised if you spot crows around Maldives as they are the most common terrestrial bird throughout the island. Crows are believed to be the first species brought by the ancient sailors who sailed in the Indian Ocean for navigation purpose in order to look for a land.
15. POWER PLUG
Maldives is using standard voltage of 230 V and 50 Hz for the power plug and it's similar to the power plug that you can find from most Asian countries, UK, Europe and Australia.
16. NO CORAL AND SHELLS OUT FROM MALDIVES
It's prohibited for tourist to bring out the corals and shells out of the country where it is forbidden by the Maldivian law.
17. DO NOT FEED THE FISHES
In order to protect the marine life, you are not allowed to feed the fish as some of the food may not adapt to their digestive system. Moreover, it's against the law of nature where the fish getting lazy to look for the food themselves.
18. DO NOT STEP ON THE CORALS
Coral reefs are extremely important in order to maintain the marine life ecosystem. Avoid touching or standing on the coral reef as you may kill them and break their structure.
19. DO NOT LEFT PLASTIC BEHIND
Maldives waste treatment system is much more behind than other countries, as a result tons of plastic each year are left on the islands due to the fast pace of tourism.
20. AVOID FRIDAY
Maldives is a Muslim country and Maldivian hold prayer on every Friday although they pray ordinary five times per day. Hence, many places and local speedboats are closed on Friday. As a result, remember to check their schedule before flying to Maldives.
21. WEEKEND BEGIN ON FRIDAY
Friday and Saturday are the weekend days for Maldives and the working weeks begin on every Sunday. Some of the speedboats and water activities price is higher due to the demand is more than supply.
22. DIFFERENT TIME ZONE
Some of the resort islands are 1 hour ahead of Male (Capital of Maldives). Hence, remember to check with the resort in order not to miss your flight home.
23. BRITISH EDUCATION SYSTEM
British used to rule the country for a century, hence Maldivian are still follow the British Education System and 98% of them are able to read and write which is the highest rate in the world.
24. FLIGHTS TO RESORT ISLANDS ARE EXPENSIVE
Flights from Male Airport to resort islands may double the cost of your flight from your country to Maldives although the distance is just about 15 to 30 minutes. Hence, always check the transportation price before you book a room from the resort island.
25. NO SCHEDULE FOR SEAPLANE FLIGHT
Don't be surprised that if you roll up at Male Airport and waited for another 3 to 4 hours for your seaplane to take off as they don't have the schedule for seaplane flights. Perhaps they are only ready to take off when there're a lot of passengers.
26. NOT ALL THE WIFI ARE FREE
Please be aware that some of the WIFI services are not free and chargeable. The price may reach up to USD 150 per week and the connection speed can be very slow.
27. WHALE SHARK AND MANTA RAY
Don't be surprised that you spot whale shark and manta ray around the island during your transfer or private yacht out. There are more whale sharks during summer month from December to May where they are coming up to feed in warm water.
28. HEALTHY DIET
Maldives food is healthy and fresh as you may consume more for your daily activities, however you still able to maintain or lose weight.
29. NO PORK NO LARD
You wouldn't find any pork on the island (unless is imported) as Maldives is a Muslim country and most of the food are served Halal.
30. HIDDEN FEES AND TAXES
Beware of the hidden fees and taxes behind all the services such as restaurant, water activities and etc that may hit up to 22%.