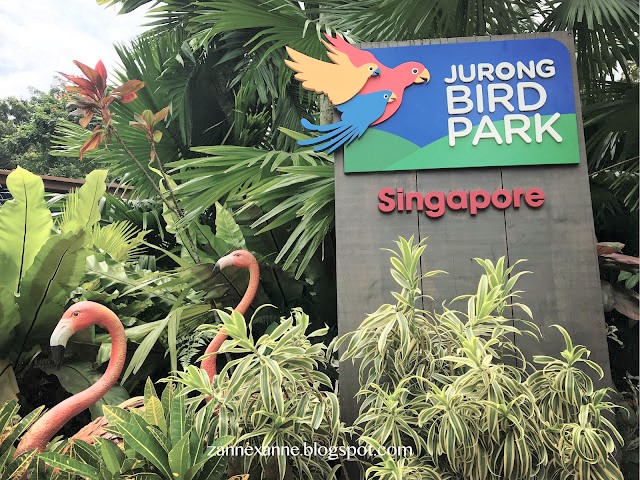 Jurong Bird Park Singapore | Asia Largest Bird Paradise | Zanne Xanne's Travel Guide
There are many places where you can enjoy the nature and animals in Singapore. I made a trip to Singapore Jurong Bird Park lately before they are moving out to Mandai. If you are on a leisure trip with your family, then you should include Jurong Bird Park as one of the must visit places in your itinerary.
Jurong Bird Park is a short bus ride away from Boon Lay MRT station and it is one of the Asia's largest bird parks with over 5000 birds across 400 species in a sprawling 20.2 hectare space. Moreover, Jurong Bird Park is now home to the world's rarest blue macaws which are the highlight of the bird park and they are threatened by excessive trapping for the illegal pet trade and habitat destruction.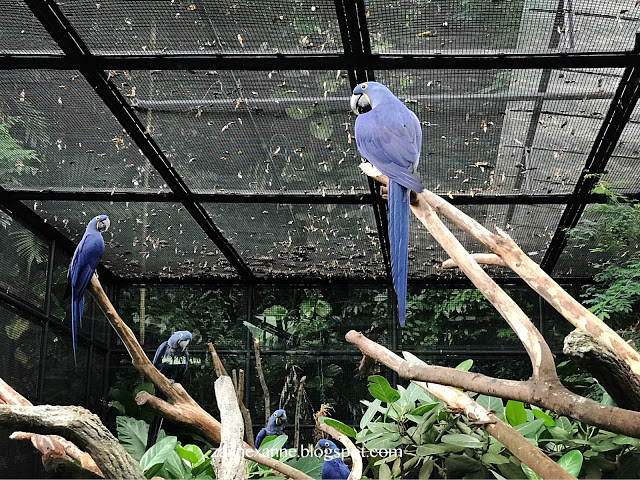 Blue Macaws
Here are some of my favourite highlights where I would like to share with all of you here:
ROYAL RAMBLE
Royal Ramble was the home of crowned pigeon and other birds with attractive feathers and colours. Crowned pigeon is remarkable due to the spectacular crest of lacy feathers on the head.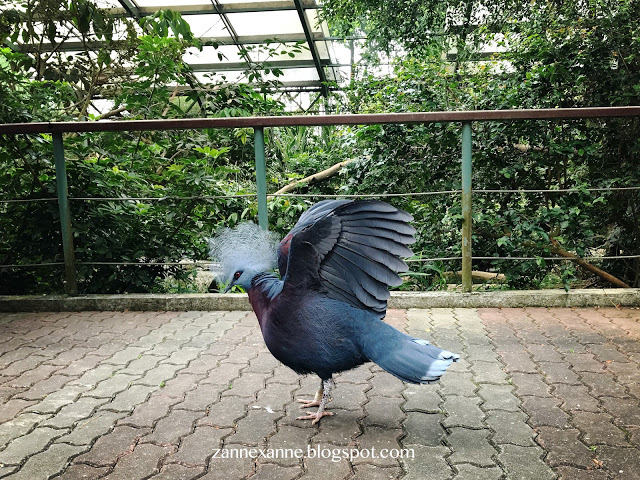 Crowned Pigeon
WETLANDS
Most of the Wetlands birds have a pair of long legs and they are perfectly adapted with the mud and lower water level. They don't get their feathers wet when they walk through the mud. I'm so excited to see pelican in Wetlands because it has been associated with babies and family for centuries. According to the mythology, pelican can be seen flying over the rooftop with a little cloth bundle before landing at the doorstep of a happy couple with the newborn.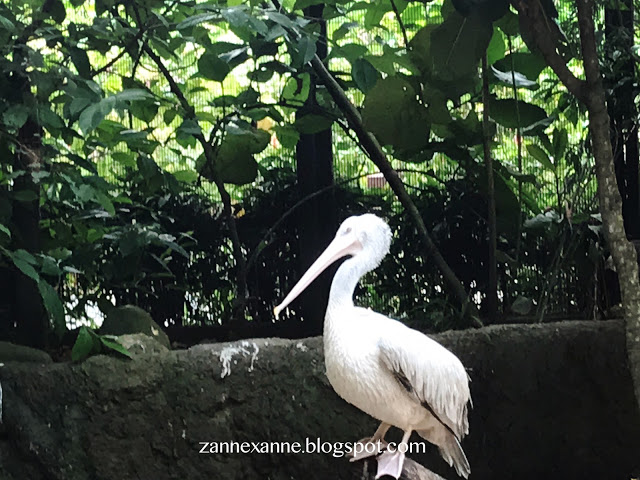 Pelican
HORNBILLS & TOUCANS
Here is the largest collection of Southeast Asian Hornbills in the world as well as a wide variety of South American Toucans in Jurong Bird Park. It reminds me of Sarawak, one of the states in Malaysia where it's widely known as the "Land of Hornbills" and it has been an icon to the native that still features very prominently in their culture. There is a "Hornbill Chit Chat" show where guests can have some interaction with the hornbills daily.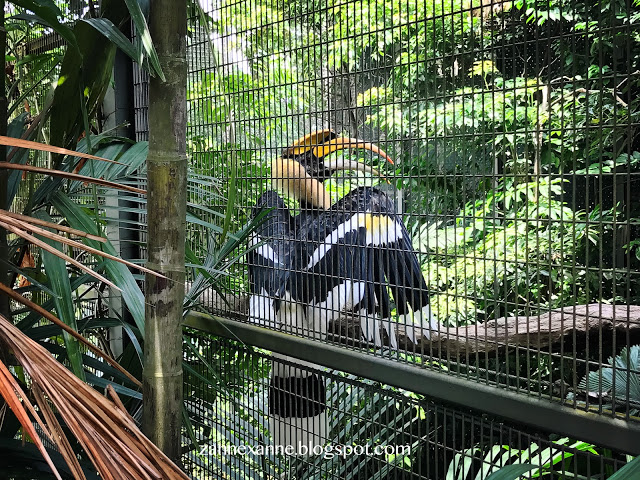 Great Hornbill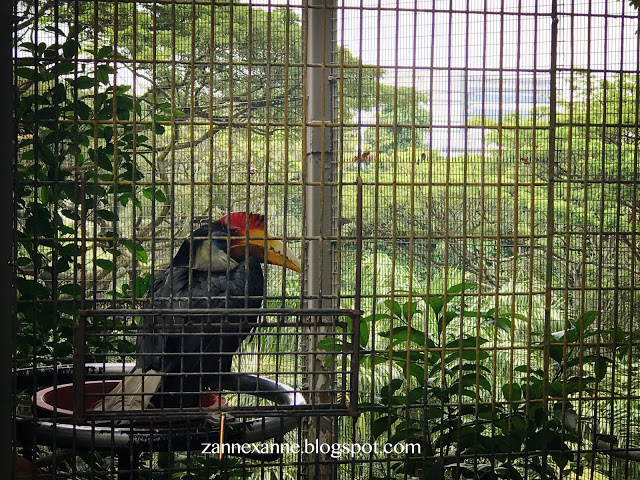 Wrinkled Hornbill
LORY LOFT
Lory Loft is one of the four walk-in flight aviaries which built on a bowl-shaped valley and provides a 360 degree view of the area. It is home to over 10 species of gloriously-coloured lories and lorikeets.  You are welcome to enjoy the hand feeding experience with a special mixture of imported lory dry mix, honey and water where you can have the chance to get closer with the lories and lorikeets.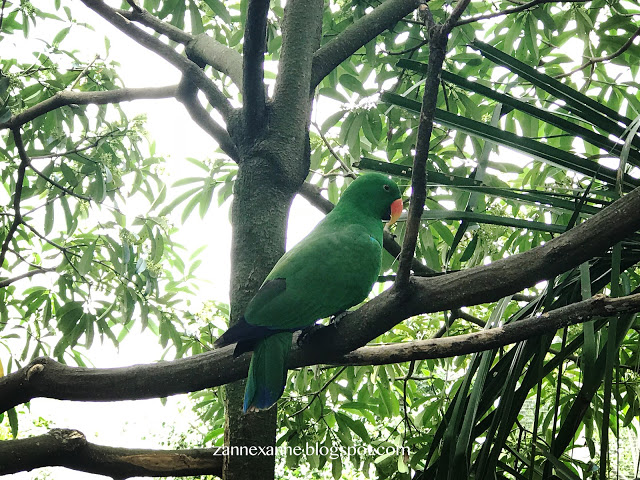 Green Lory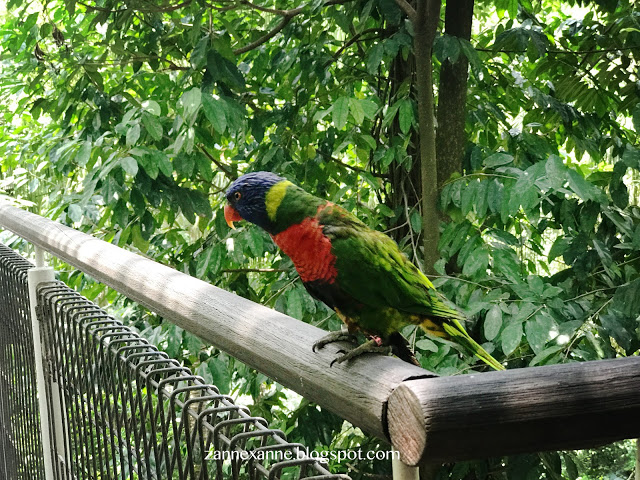 Rainbow Lorikeet
WATERFALL AVIARY
Don't miss up the world's tallest man-made, spectacular indoor waterfalls in Jurong Bird Park. Cross over the suspended bridge for a panoramic view of the surrounding landscape and hike up to the Hut to catch sight of some reticent birds in action. Get ready your camera and prepare for some road crossing birds along your journey in Waterfall Aviary!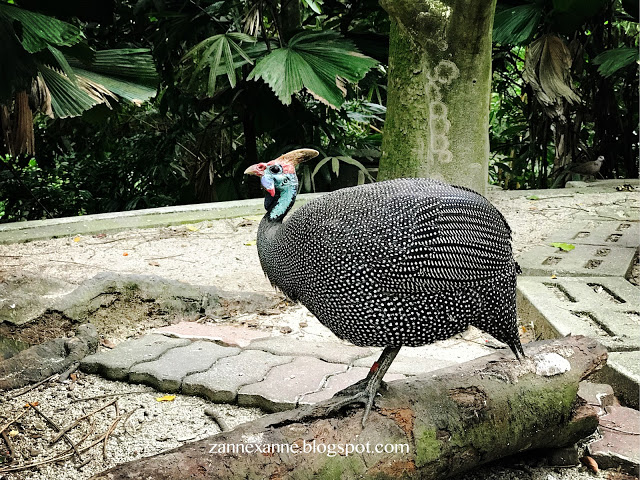 Helmeted Guineafowl
POOLS AMPHITHEATRE 
It is a place where you can catch the most popular birds and rising scene stealers in Jurong Bird Park. The High Flyers Show showcases the natural talents, breathtaking plumage and sharp as claws IQ at 11am and 3pm daily.
PENGUIN COASTS
Are you aware that penguins are not only found in cold places, they have also made their homes on hot terrain? You can drop by Penguin Coasts at 10.30am and 3.30pm to learn more about wildlife from the people who know best- the keeper.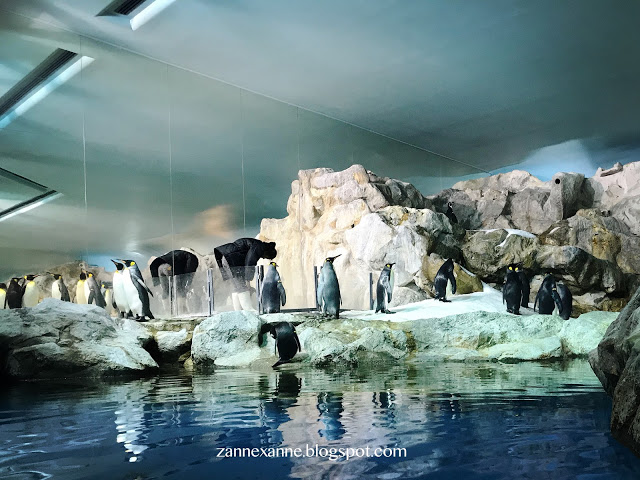 Penguin
There's a lot of interesting places in Jurong Bird Park such as Swan Lake, Flamingo Lake and Pelican Cove where you can watch the birds closer with the telescope and take a photo with them as well!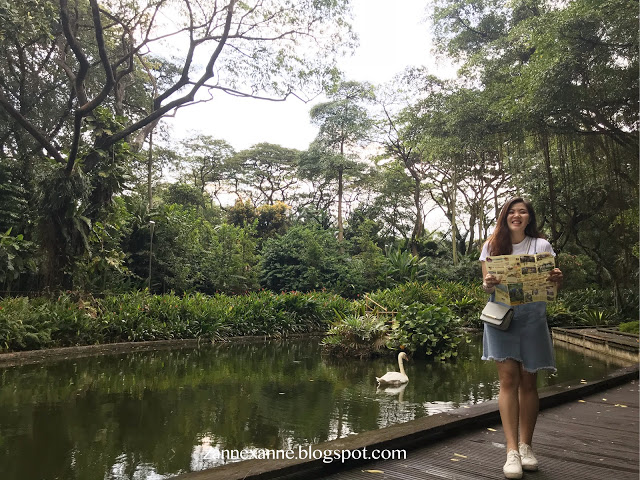 Swan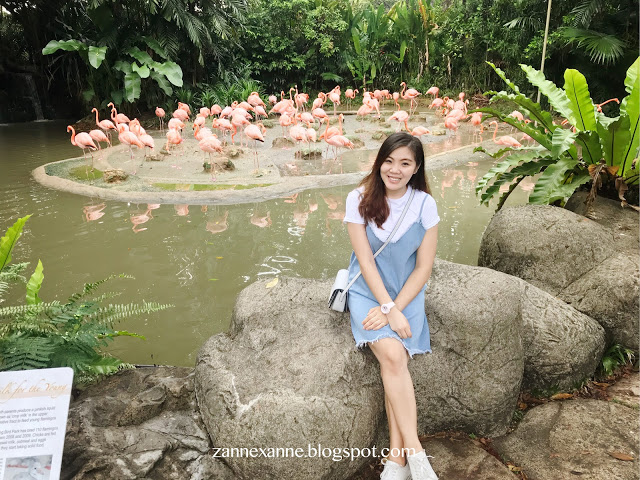 Flamingo
To find out more about my exciting trip in Jurong Bird Park, you may click on the video below or subscribe to my Youtube Channel for more updates:
JURONG BIRD PARK SINGAPORE
2 Jurong Hill, Singapore 628925. | +65 6265 0022
Nearest MRT | Boon lay Station (Take the bus no 194 or 251 which depart from Boon Lay Bus Interchange)
Operation Hour | 08:30-18:00