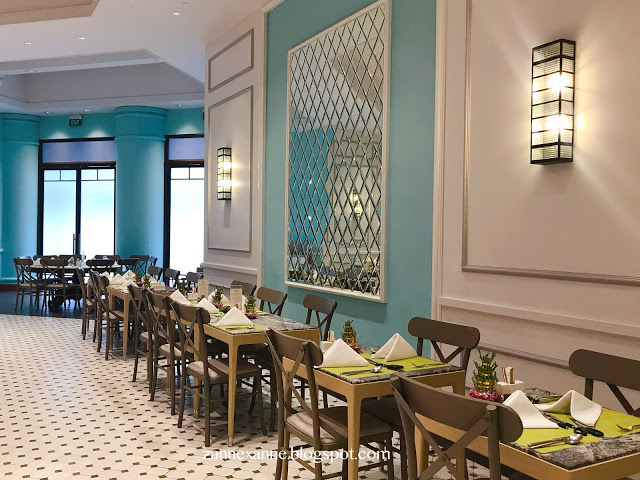 Ellenborough Market Café Review By Zanne Xanne | Chinese New Year Buffet Dinner
When we are referring to Peranakan culture or the Straits Chinese, we are mostly familiar with their unique style of design and food. Located along the bank of Singapore River and Clarke Quay, Ellenborough Market Café at Swissotel Merchant Court Hotel is presenting a tantalising Peranakan cuisine, Asian and international delights for their daily lunch, dinner and weekend high tea buffet. Indulge in their new menu highlights such as Braised Pork Belly and La Mian, along with the all time favourites including their signature Ayam Buah Keluak and Durian Penget.
It was still Chinese New Year during my visit and the spacious dining hall was decorated with the Chinese New Year decoration and flowers.
THE INTERIOR
I love the contemporary revamped design which dressed in vibrant turquoise and accented with a sparkling diamond-cut glass wall feature. The lilac mezzanine was drenched in light through the restored stained-glass skylight, while in the classy dining room, the show kitchen's buffet lines were taking the centre stage and the wall was decorated with Peranakan's kitchen utensil, batik and etc.
CHINESE NEW YEAR DISHES
I began my dinner from the carving station which featuring the Chinese New Year special dishes such as Char Siew, Roasted Chicken and Duck which are one of the must have dishes in our festive season. Walked to the centre of the buffet line, Ellenborough Market Café had served the customers with variety of Assorted Chinese New Year Cookies and Nyonya Kueh for those sweet teeth who had not got enough during this Chinese New Year.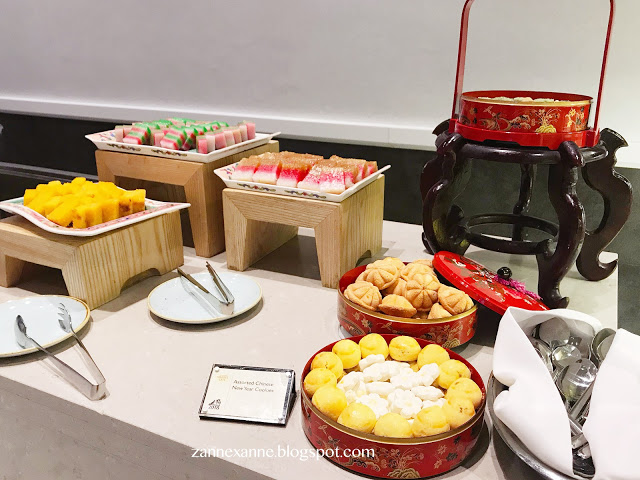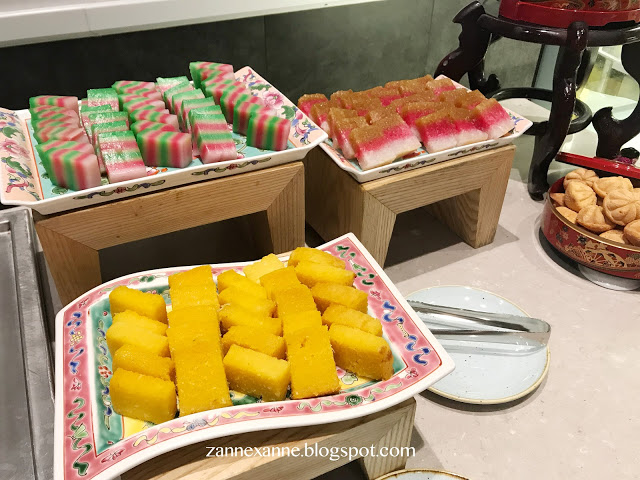 Bak Gua, Spring Roll, Dumpling and Shark Fin Soup in their menu for this year. I spot Ellenborough Market Café was having self service Yu Sheng at the salad bar area too!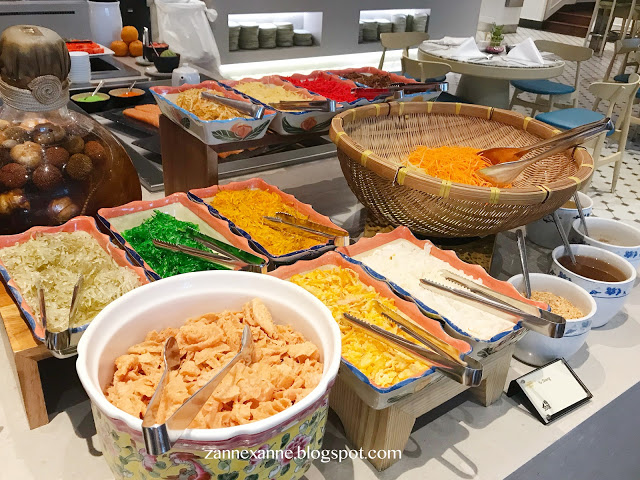 Self Service Yu Sheng Corner
PERANAKAN AND INTERNATIONAL CUISINE
Besides their famous Ayam Buah Keluak and Durian Penget, I loved their Kueh Pie Tee so much where you can make your own Kueh over the station.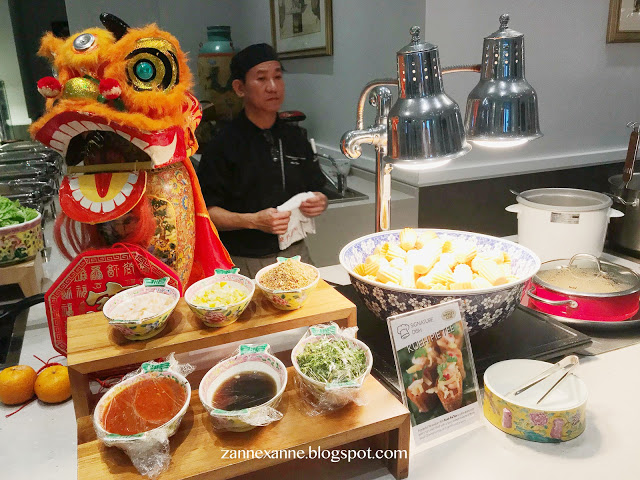 Kueh Pie Tee Station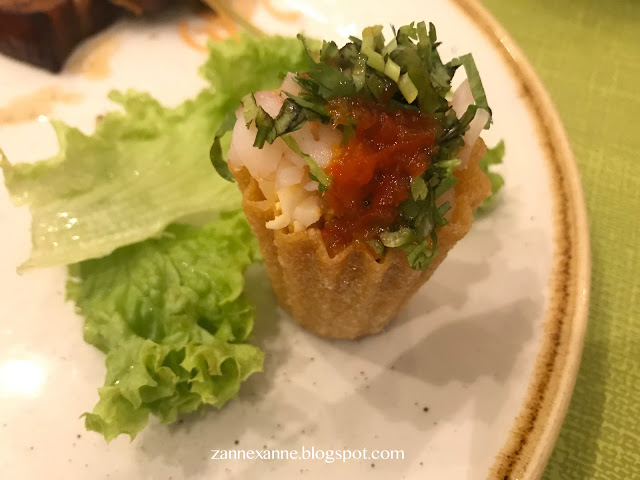 Kueh Pie Tee which prepared by me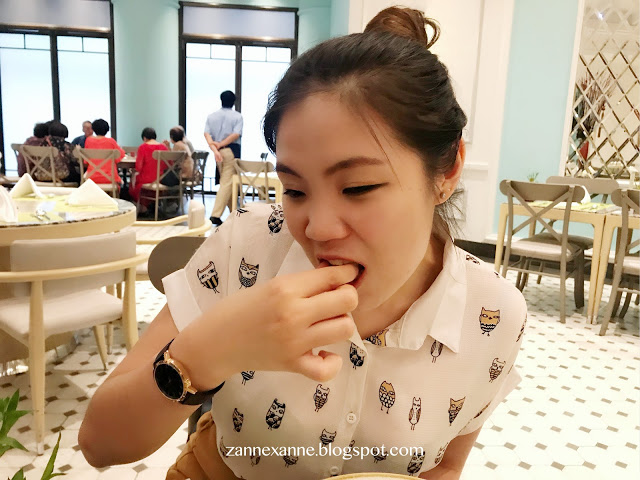 I was having "One Mouthful Challenge" for the Kueh Pie Tee.
Although the main highlight was Peranakan cuisine, Ellenborough Market Café had expanded the range into international cuisine such as oriental and western style dishes. They were serving chilled seafood such as scallops, prawns, mussel, crabs and baby lobster for the crustacean lovers. Moreover, there was a Japanese sushi bar that provides a variety of sushi, raw sashimi and soba noodles for the customers too. Not to forget the salad bar that provided a variety of choices for some healthy greens as well.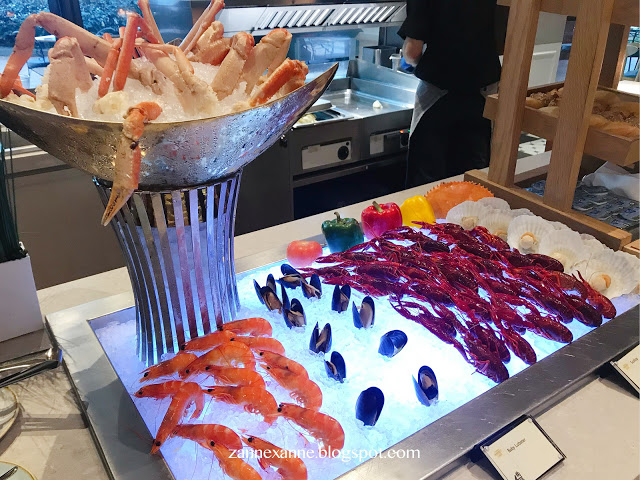 Chilled Seafood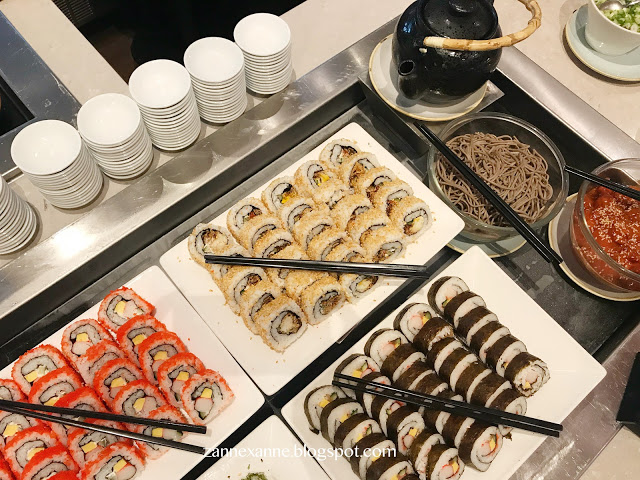 Japanese Cuisine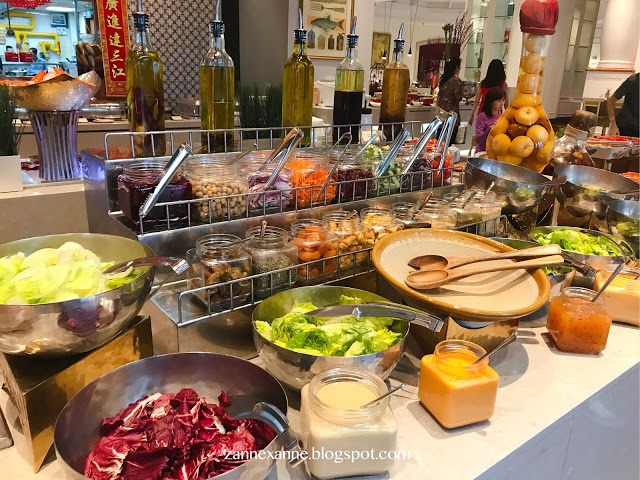 Salad Bar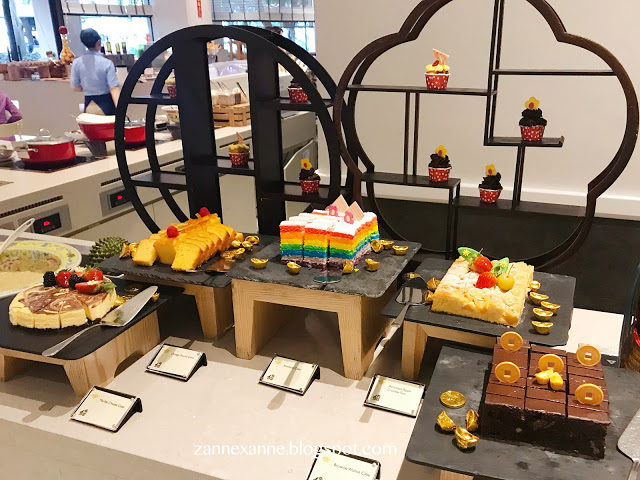 Dessert Corner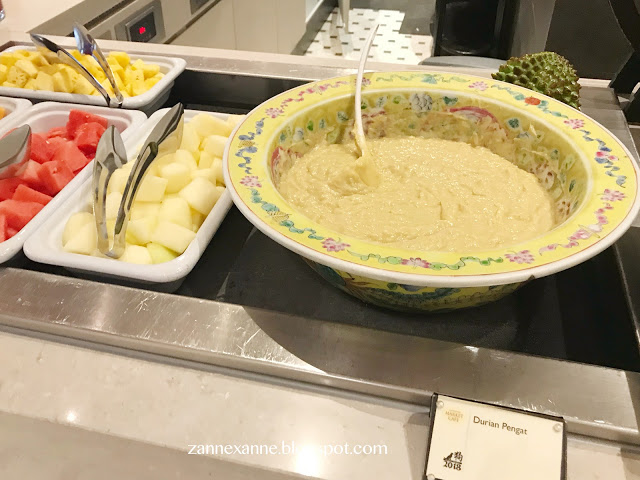 Durian Penyet
However, the spiciness level of Ayam Buah Keluak was not enough and some of the chilled seafood at the Western corner was too salty. I think they kept the seafood with the salty water to maintain the freshness.
Last but not least, thanks to Prof Chng who had invited me to enjoy such a sumptuous and wonderful buffet dinner. She was extremely nice and patience in explaining to me about the Peranakan culture and food. It was really a memorable dining experience during the festive season with someone who you admired and respected most. I enjoyed the food very much that recalled my childhood memory. My granny was originated from Singapore and she was able to cook something similar to the Peranakan dishes such as Braised Pork Belly, Nyonya Chap Chye and some of the desserts during our yearly festive season.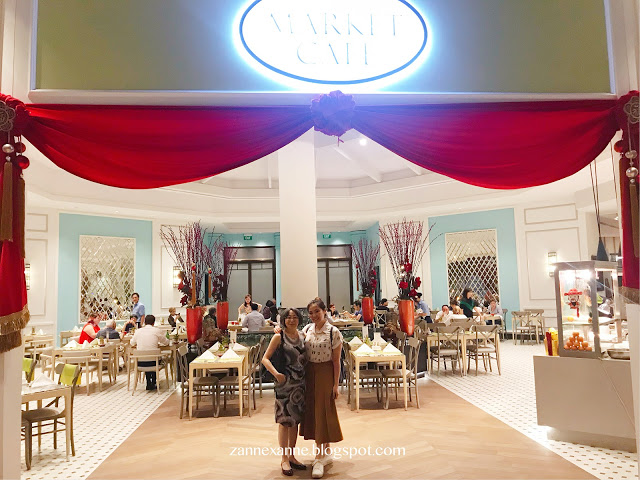 ( For those who plan to drive to Ellenborough Market Café, you may ask for the 2 hours complimentary ticket upon billing from the friendly cashier. )
ELLENBOROUGH MARKET CAFE
20 Merchant Road, Swissotel Merchant Court, Singapore 058281.
Nearest MRT | Clark Quay Station
Operation Hour | 18:30 – 22:00
Tel | +65 6239 1848
PRICE
Lunch  |  Adult $68++  |  Child $34++
Dinner  |  Adult $80++  |  Child $40++