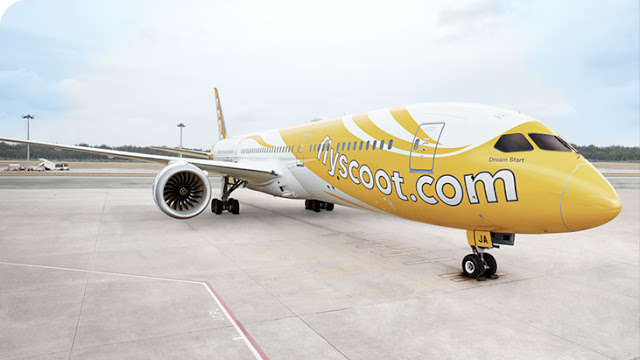 Scoot Cabin Crew Interview | Zanne Xanne's Tips
Nowadays the rise of budget airline has allowed people to travel more frequently than the past. Since Scoot announced themselves to the world on 1st November 2011, they have grown spectacularly and received a lot of positive feedback from the customers and fans.
Scoot is one of the new airlines based in Singapore and they are expanding right now! Hence, they need more people with Scootitude that makes them so fun and loving to join their big family. Here are some interview tips and hope it benefits you:

HOW TO APPLY
If you have the passion for travel and pushing yourself to the boundaries, apply today with Scoot by clicking the website HERE or click on the link FACEBOOK: Got Scootitude to receive latest information of vacancies and recruitment from them.
PRE SELECTION PHASE

1. ONLINE VIDEO INTERVIEW
You will receive an invitation to join their online video interview if you are shortlisted. Make sure you are not naked or with your pyjamas to begin the interview. Avoid some crowded and noisy places and be prepared before you begin the pre-selection process. You will need to use the apps which link to your email and it allows you to practice with some simple question before you start the video interview. The video interview will be recorded and send back to them after completed.
2.ONLINE QUESTIONNAIRE AND ASSESSMENTS TEST
You are required to complete some online questionnaire and assessment test so that they are able to identify some important attributes from you for the cabin crew's role. Answer it honestly and don't try to cheat or ask for help as you may need to repeat the test again on the selection day.
Here is the 5 assessment test after the video interview:
Shapes: This assessment measures preferred behavioral style in the workplace. It is untimed, however most people take approximately 15 minutes to complete it.
Verbal Reasoning: It measures the ability to process verbal information and it is timed for 6 minutes. There are only 3 options available: True, False and Cannot Tell.
Numeracy: This assessment measures the ability to complete basic calculations and is timed for 5 minutes.
Logical Reasoning: It measures logical reasoning ability and is timed for 5 minutes.
Cabin Crew SJQ: This test presents various realistic scenarios for you to indicate a course of action depending on each scenario. It is untimed but should take 15 minutes to complete.

SELECTION PHASE
Be patient and wait for a few days or weeks to receive the news from Scoot if you have really done your best. 🙂 You will receive another email from them to join the selection phase at the assessment centre if you are shortlisted. Attend the interview with your appropriate attire because you will never realize you may fail due to the inappropriate dress up. The whole process may take 4 to 5 hours, the time may be shorter if you've been eliminated at the earliest stage. Use of mobile phone is not allowed during the assessment, so all you need to do is just wait patiently.
(Ps: You may check your mobile phone again during your toilet break.)
STAGE 1: REGISTRATION AND DOCUMENT CHECK
Prepare your resume and bring along the relevant documents and certificates that benefit you most.
STAGE 2: SELF DECLARATION CHECK
Height is very important and is closely related to the safety aspect of the job. The height requirement for ladies is 160cm. The interviewer will check your height and body for any scar and tattoo during this stage.
STAGE 3: ASSESSMENT TEST
Once you pass the self-declaration check, you will start the assessment test with other candidates in a room. The test is similar to what you have done previously during the pre selection phase. You are required to answer all the questions given within the limited time. Just try your best to complete it.(Ps: The English test is profound!)
STAGE 4: DISCUSSION
After the elimination from the assessment test, you will be divided into a small group for a discussion. During the discussion, the interviewer will observe each of the candidate's actions. Try to be polite and get involved in the discussion, they actually want to see your confidence and how you present yourself. Each group is required to send a representative to present the choice of selection after the discussion.
STAGE 5: ROLE PLAY AND INTERVIEW
You are given an information sheet with a scenario to understand during the role play. You need to handle the situation based on the scenario given (mostly a complaint case). After the role play, the interviewers (mostly head of cabin crew) begin the 1-1 interview and remember not to be nervous and answer their question politely and confidently.
WAIT FOR THE RESULT

Shortlisted candidates will receive an email to join the contract briefing at Scoot office in Changi Airport. You are given some time to consider accepting or rejecting the job offer after the briefing. After signing of the contract and past the medical checkout, you will start the training at the SIA Training Centre with other candidates before your flying journey. ☺️


So good luck to those who are pursuing their flying dream with Scoot!