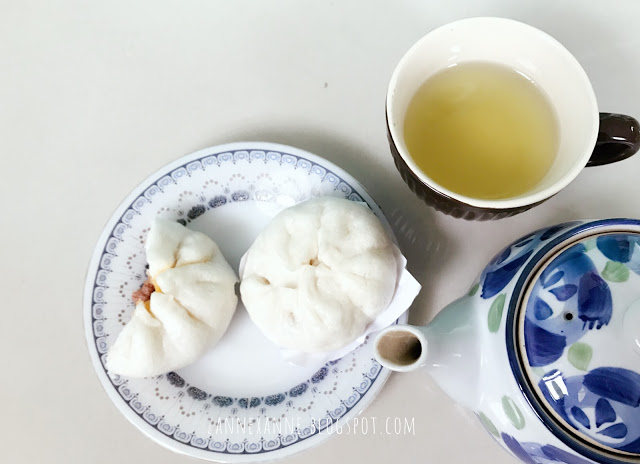 Foodie Culture | What To Try In Bangkok | Zanne Xanne's Travel Guide
I don't have any preference food to try in Bangkok, however being a foodie I would like to have something unique here either delicious home cooked food, restaurants or from the hawker centres. Thai Tom Yum is too mainstream in Singapore and Malaysia, so I will just follow Jacey's taste buds to explore the nice and interesting street food in Thailand!
BREAKFAST
1. Tom Yam Char Siu Bao 
A very creative homemade juicy Char Siu Bao with the Tom Yam's flavour for breakfast. It is a mix recipe for Chinese and Thailand's style that definitely a breath of fresh air for you too.
LUNCH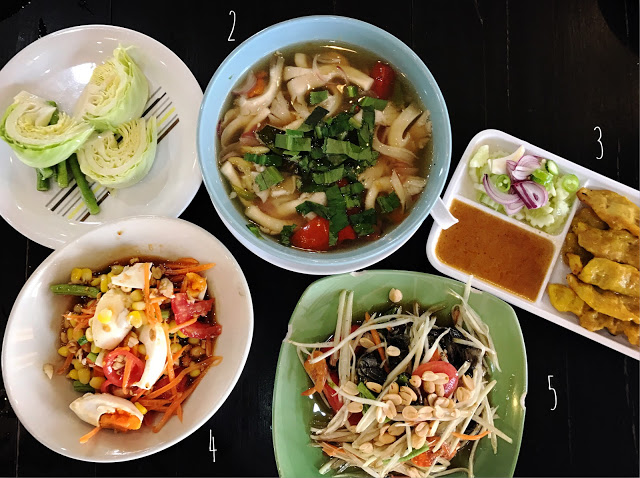 2. Mushroom Tom Zab Soup
A hot and sour wonderful soup with oyster mushrooms perfect for vegans who travel to Bangkok. It is not that spicy, however if you are someone who love sour soup perhaps you should try this one day. It's so refreshing!
3. Moo Satay
This is one of my favourite satay in Bangkok. Moo Satay is made from grilled marinated pork which served with a tasty peanut sauce and Thai cucumber salad with raw cabbage. It is super authentic and you really can't get enough with this!
4. Tum Khao Pod (Corn Salad)
This is a non spicy Thai dish and if you are a corn lover, perhaps you should try this. It tastes sweet and if you are travelling along with your kids or someone who can't take spicy, get this for them. I'm sure they will definitely fall in love with Tum Khao Pod! 
5. Som Tum (Green Papaya Salad)
Som Tum is a green papaya salad made from shredded unripe papaya with dried shrimp and peanuts. It is one of the most common and popularly consumed dishes in Thailand. It is sour, crunchy and little spicy.
DINNER AT CHINATOWN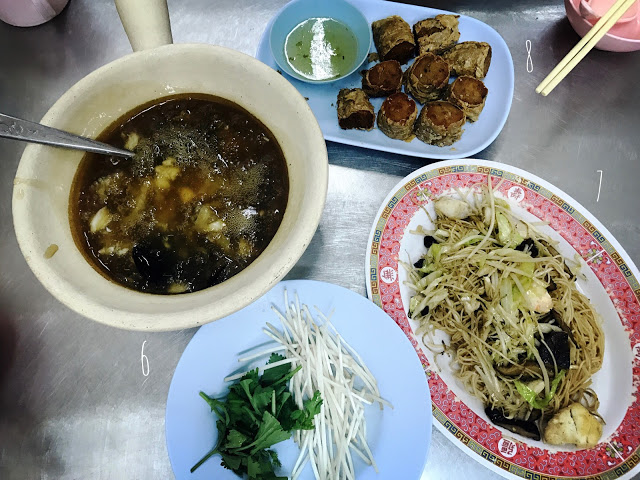 6. Shark Fin Soup
Shark Fin Soup is a common dish that you can find in the Chinese's banquet and wedding. If you are here in Bangkok Chinatown, don't forget to try the most famous Shark Fin Soup. It is not as expensive as what we think and it's served with a plate of coriander and bean sprouts. You can add a little bit of black vinegar (optional) for a better taste.
7. Mee Sua
Mee Sua also known as Longevity Noodles, hence many Chinese believe that it may adding their life by eating Mee Sua on their birthday. It is not my birthday or Jacey either, however we just want to try the local Teochew style Mea Sua here and it really tastes good when you eat with the Shark Fin Soup.
8. Loh Bak (Chinese Meat Rolls)
Loh Bak usually is one of the Chinese festive dishes in Malaysia. However the making of Lok Bak in Chinatown Bangkok is slightly different from what we have tried. They have added more pork and wrapped with a beancurd sheet so that it is crunchy and soft chewy filling.
SUPPER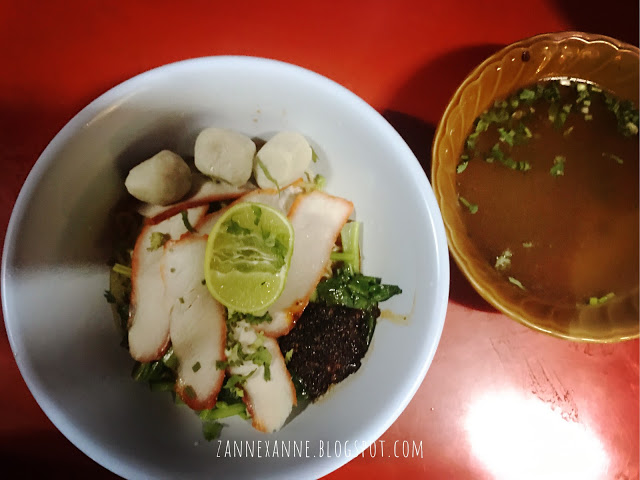 9. Ba Mee Moo Dang
Ba Mee Moo Dang is an egg noodle with red Thai Barbecue Pork in Bangkok and it is listed as the top 5 most popular noodle dishes in Thailand. It looks like Wanton noodles in Malaysia and Singapore however this is vary from others as it's in Tom Yum flavour. This is really so "Thailand", it is so yummy!