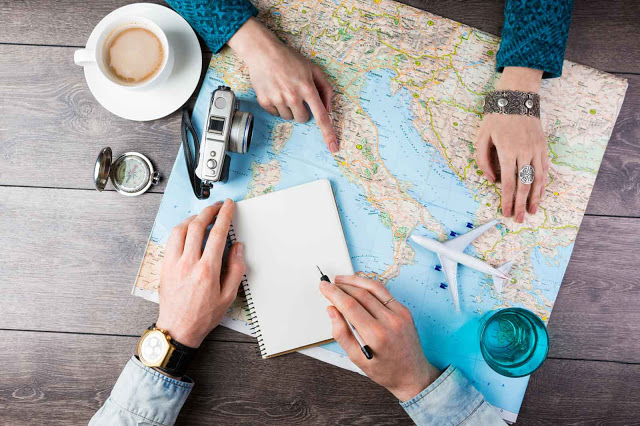 12 Ultimate Budget Travel Tips | Zanne Xanne's Travel Guide
The set of 2016 and the rise of a brand new year 2017… Now, you have a brand new beginning to look forward for a brand new vacation. Have you decided where to travel for this year? If you are on a tight budget trip, here are some budget travel guide to help you save more:
1. PLAN YOUR TRIP WELL
Plan your trip in advance can save up a lot of time and reduce the chance of making mistakes by traveling to the wrong location during your journey. It's better to list down the things you wish to do during your trip in order to overcome the panic attack. Furthermore, blindly visit a country without getting some basic information is pretty dangerous as you may not able to predict what's going on at another side of the world such as the politic or culture issue. Hence, do some basic background research before your trip and plan it earlier so that you can travel independently and safely!
2. BUDGET AIRFARE
Traveling is getting more ease nowadays as everyone can fly due to the low airfare with the budget airline such as Air Asia, Scoot and Tigerair. They are having the promotions every time and offer the lowest fare ticket online over 100 destinations across Asia. You can redefine your travel experience, compare and book the cheapest airfare during their promotional period.
3. CHEAP ACCOMMODATION
There's so many options that you can decide whether to stay in a backpack inn, Homestay or Airbnb during your trip. However, safety comes first. If you are a female traveler who plans to travel alone or with companions, it's better to stay in a female dorm and always keep your valuable belongings safe.
4. SPOT YOUR NEAREST 7-ELEVEN STORE
7-Eleven is one of the most widespread, convenient stores and it has grown significantly over the years to make the customer's life easier. It sells various types of products such as foods and beverages, dairy product, financial and product delivery services. In addition, 7-eleven also act as a "fast food restaurant" for the public as it provides instant hot foods and beverages at reasonable prices. As a traveler, you should not miss up the nearest 7-Eleven store in order to explore their nice and delicious local style bento!
5. PUBLIC TRANSPORT
Catching public transport may be cheaper than travelling by car or taxi. Well, maybe it's not as enjoyable as having your own personal space but it gives you plenty of time to know your neighborhood and understand their culture well. It's quite enjoying to watch the people around and you can relax, read or even nap during the journey too!
6. PURCHASE THE EARLY BIRD TICKET
Queuing up to purchase the entrance ticket for the attraction spots or festival is quite tiring especially during the holiday season because you may end up with 2-3 hours lining up just to get the "entry permit". Hence, you may consider getting an early bird ticket to get rid of the long queue. If you are lucky enough, you may get an early bird promotional price from social media as they may need to boost up their sale sometimes.
7. EXCHANGE THE CURRENCY WHILE THE RATE IS GOOD
It's frustrating to receive a lousy exchange rate while traveling. Some traveler may purchase the foreign currency at the airport for their convenience, however they always not able to get the best rate. As a result, it's best to know the best place to purchase the foreign currency and to check the rate periodically before visiting the store. Moreover, the best timing to purchase the currency is usually in the weekday and middle of the month.
8. WORK FOR ACCOMMODATION
One of the biggest expenses for a traveler is accommodation, especially you are on a long vacation or travel more than a month. There's a trend for working or best to known as volunteering or caretaker in order to trade for accommodation. It is one of the great opportunities to meet the locals, learn more about the country and money saving too!
9. VISIT THE FREE ENTRY PLACE
There are some places with free entry to their indoor and outdoor areas especially on certain public holidays. The historical places and museums are giving a free entry to the visitors to explore the history of their country too. Furthermore, for those who are planning for cherry blossom viewing in Japan or Korea, you can visit a few popular and free spots for the stunning cherry blossom panoramas.
10. WORK WHILE TRAVELING
For those who are under age 30, you can try to apply a working visa in some western countries such as New Zealand, Australia, Canada and UK in order to experience working and travelling abroad. You can learn and understand the job on the other side of the world and also get to meet various lifestyles of people while earning and travelling!
11. EXPLORE THE NIGHT MARKETS
Night Markets are offering a carnival like atmosphere with a large and cheap array of foodie and goodie, local street foods, bars and live music to the public. They are popular in Asian culture and can be found especially in Southeast Asia. Moreover, you are allowed to bargain the price before purchase and a lot of cheap and delicious local street foods can be found here too!
12. TRAVEL SLOWLY
If you wish to keep your travel expenses low, then you may need to consider traveling slowly. The more flights you take, the more money you will spend. Just focus on a few places, and get to know the people, the language and the culture before depart to the next destination.