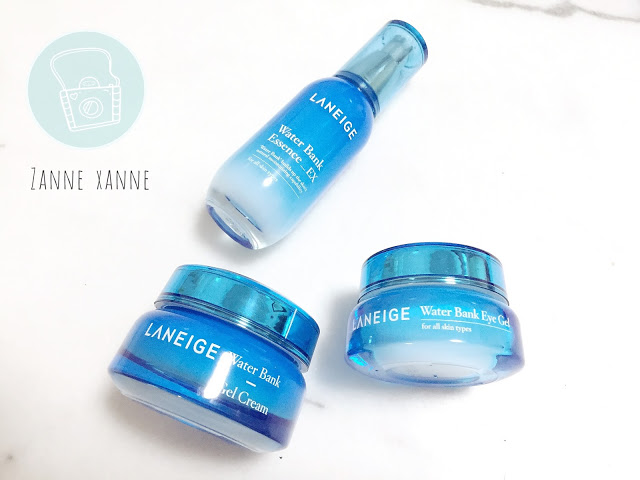 Laneige Water Bank Line Review By Zanne Xanne
If you have read my previous review on Laneige Lips Sleeping Masks, you'll notice that I'm having some dry skin condition that caused by certain medicines. I have attempted to find a solution for my problem and these are my favourite basic skincare from Laneige and extremely popular among women across Asia: Water Bank Gel Cream, Water Bank Essence EX and Water Bank Eye Gel. They focus on deep hydration and moisture for the skin that feature on Hydro-ion mineral water and suitable for Asia's weather and climate.
LANEIGE WATER BANK GEL CREAM 
It is a gel type moisture cream that suitable for normal to combination skin. The gel cream soothes the skin with a cool and non- sticky refreshing texture. Laneige Water Bank Gel Cream is a lightweight gel skincare which comes in a 50ml bright blue glass packaging which costs $42. It consists of Winter Cypress Polysaccharide extract that soothes and lower the skin temperature immediately. In addition, it naturally reduces the production of excess oil and reveal the shine-free skin.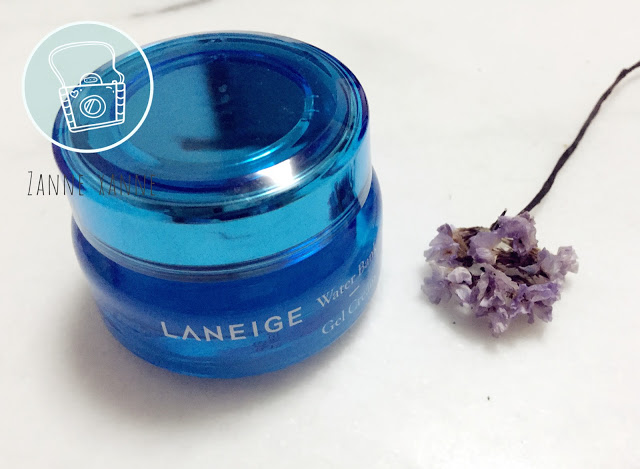 How To Use 
Scoop 1cm of Laneige Water Bank Gel Cream EX with the provided spatula and gently spread the gel from the center of the face outward after the serum.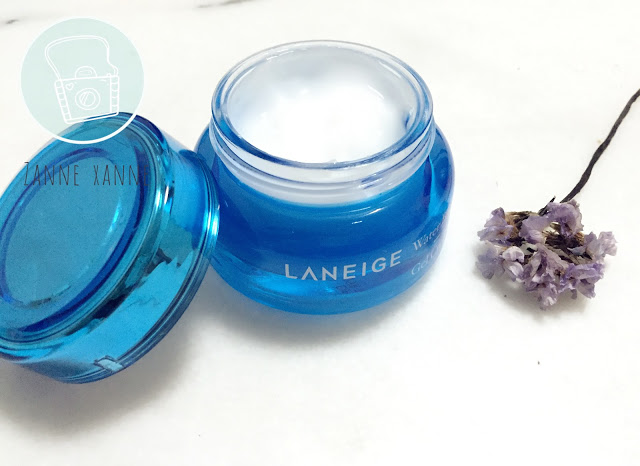 Thoughts 
The gel cream is slightly thicker than the essence, therefore it needs more time for my skin to absorb (about 5 mins). I'm quite happy that it doesn't make me feel oily and sticky at all and I can feel the immediate soothing effect from the skin. Just to take note that do not mix the cream with others foundation or BB cream. Leave the cream to be fully absorbed by your face and then apply it on the foundation on it. You can ruin your face with patch if you merge your makeup with the gel cream.

LANEIGE WATER BANK ESSENCE EX 
It is an essence with lighter and lesser concentrated ingredient that normally used after toner and before applying any moisturizer on your skin. The recent product is an upgrade version from the old "Water Bank Essence" which costs $60 and claims to awaken the natural moisturizing agents in the skin to give a smoother and moisture skin texture for the next 24 hours. Laneige Water Bank Essence EX has also received awards from Her World Beauty Award 2015 and loved by women across Asia!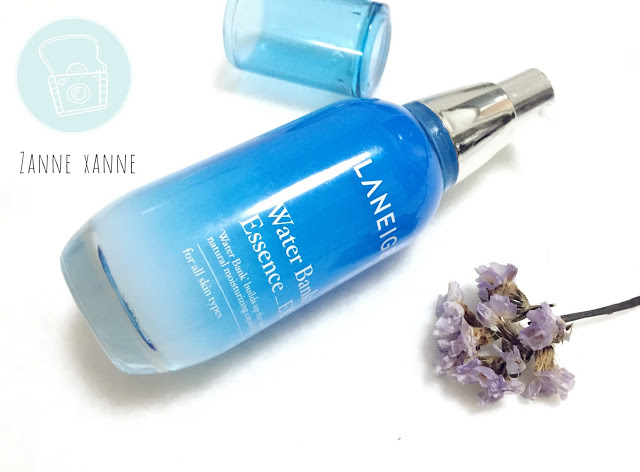 How To Use
After the toner or lotion, dispense 2 to 3 pumps and apply the essence on the cheeks, forehead and chin in dots. Spread the contently evenly using your index, middle and ring fingers (3 fingers together) and it helps to promote the blood circulation with a circle drawing motion.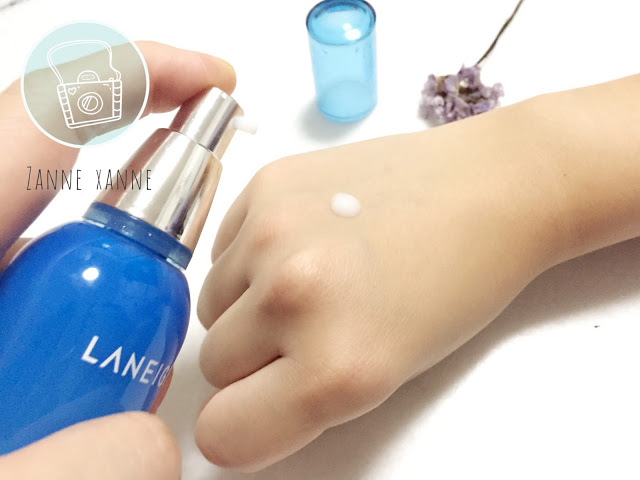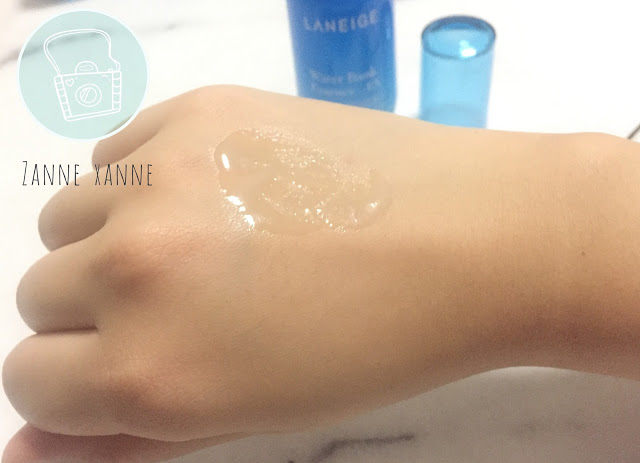 Thoughts
This is my second purchase and I bought my first Laneige Water Bank Essence EX from Korea last year. I visited Laneige shop and I was attracted by its beautiful and luxurious blue glass packaging. It comes in a 60ml glass bottle with a semi-transparent cap and it's easy to dispense through a very convenient pump. It has a milky and creamy texture that leaves my skin face soft and hydrated. It maintains optimum moisture balance in my skin and I did have a more moist appearance when I look into the mirror. Sometimes it works alone perfectly without a moisturiser over it. (I used to apply only one layer on my face before I go to bed.)
LANEIGE WATER BANK EYE GEL 
It is a 24 hours moisturizing eye gel for stressed skin around the eyes. The eye gel contains natural bilberry extracts that alleviate stress in the skin around the eyes and create a moisturizing layer over the skin to prevent dehydrated. It's a perfect vitamin and nutrient gel for the eyes! Laneige Water Bank Eye Gel has featured in: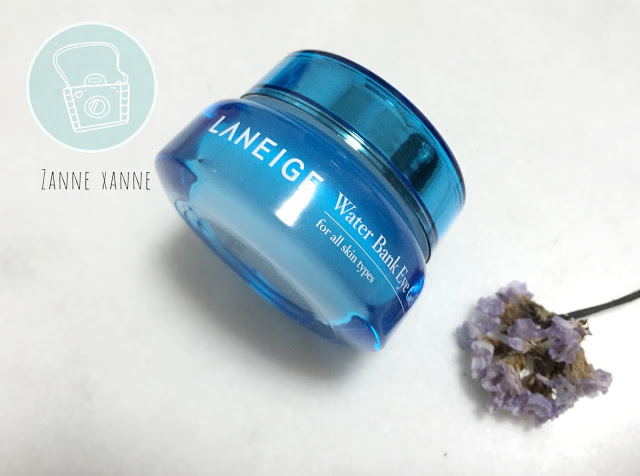 How To Use
Apply the eye gel after essence. Dispense a red bean sized amount of the eye gel and equally apply under the eyes in dots. Spread the gel from the inner area and working toward the eyelids with the middle finger.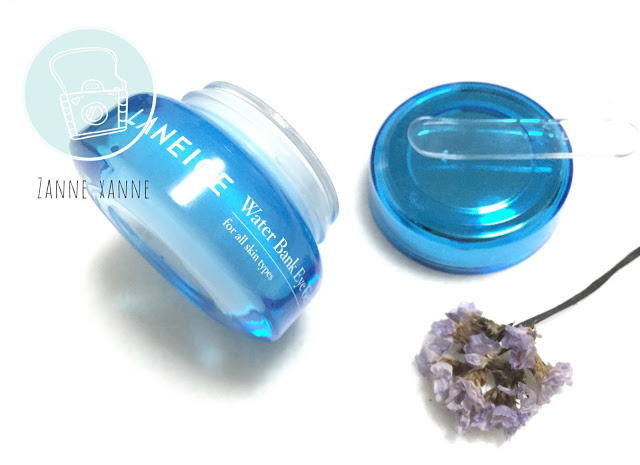 This is my first try on Laneige Water Bank Eye Gel as my skin is immune to the eye cream from The Face Shop which I have used for many years. Well, the eye gel from Laneige is seen to be thicker than other brand and it doesn't irritate my skin at the first place. Although my "panda eyes" still can be seen, however it's slightly getting better and hydrated now.
CONCLUSION
Based on a week of use, I can say that the Laneige Water Bank line does provide moisture and hydration to my skin. It works on my sensitive and dryness skin perfectly. (I'm actually a combination skin, but yet allergic to certain stuff) I don't feel tense and any dryness after I applied them daily! J However, it doesn't suitably for acne and problem skin when there is some break out.
RATING ⭐⭐⭐⭐☆